420Patients.com is accepting qualified medical marijuana patients and caregivers to join our network. We value every registered member and we hope to serve you in Arizona. This article brought to you by 420 community friends theCannabisIndustry.org

The field of cannabis extraction and marijuana-infused products has quickly emerged as one of the fastest-growing and most consistently innovative sectors of the cannabis industry. It's also become one of the most scrutinized and highly regulated. NCIA wants to help you capitalize on the infused product revolution while staying committed to the best, most responsible practices and highest quality products.
That's why we're hosting our first-ever Infused Product & Extraction Symposium at the Hyatt Regency Denver Tech Center in Denver, CO, from October 27 to October 29. There will be no better opportunity for industry professionals, entrepreneurs, and newcomers alike to learn about best practices and cutting-edge technologies in this booming field.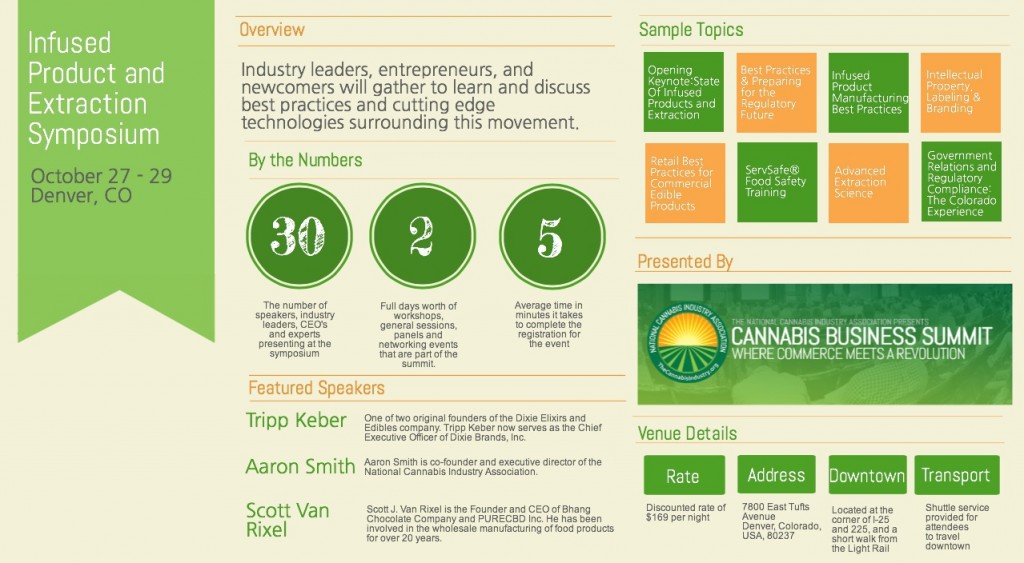 Haven't gotten your tickets yet? Lucky for you, we've compiled this short summary of who should attend and why to help make your decision a little easier!
Who Should Attend?
Infused product manufacturers
Extraction scientists and business pros
Investors & entrepreneurs
Experienced dispensary owners & operators
Attorneys & legal experts
Industry consultants
Policymakers and regulators
Why Should You Attend?
Gain insight into the rule-making process around infused products regulations from industry leaders who are directly involved.
Receive unparalleled access to thought leaders with advice on maintaining and establishing a legitimate business within the infused products & extraction sector.
Participate in industry-related training courses focused on regulatory compliance within the infused products & extraction sector.
Take a guided tour of two of Colorado's premier infused product & extraction manufacturing facilities.

We are offering tours of both Dixie Elixirs and Auntie Dolores state-of-the-art production facilities located in Denver on Wednesday, October 29 from 9:00 a.m. to 12:00 p.m. and 1:15 to 4:15 p.m.
The morning tour is already sold-out so register now to reserve your spot!
You don't need anymore convincing, do you? Well, just in case, we are happy to tell you that all NCIA members get a $150 discount on registration! Not a member of NCIA yet? Don't worry! You can join today starting at the low cost of $100 a month or $1000 a year. Don't miss this opportunity to join the first national event dedicated to infused products, while supporting the growth of a legitimate cannabis industry on the national level.
Register today for this great opportunity to connect with fellow industry leaders while learning about best practices for operating a responsible and successful infused product or cannabis extraction business.
The post Join the Marijuana-Infused Product & Extraction Revolution! appeared first on National Cannabis Industry Association.